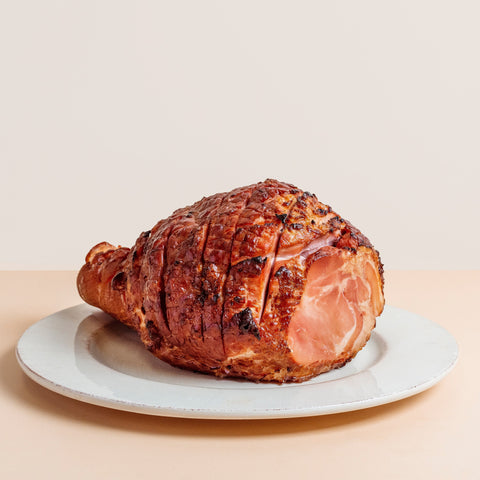 The Christmas Box
For Delivery:
Elevate your Christmas celebration this year with our Christmas Box. Indulge in exquisite flavours, premium quality ingredients, and hassle-free preparation. Order now and savour a stress-free, delicious holiday feast!
Want delivery in SYDNEY?
Have dietary requirements like no pork or no shellfish?

Get in touch and our Christmas elves can arrange an order for you.
Menu
What's in the box & allergens
Included extras
Our elves are still busy finalising our Christmas recipes but closer to the date we will provide a comprehensive equipment list of everything you will need, including any pantry staples. This makes enjoying your Christmas Box away from home a breeze. 

Our chefs have also put together a 'run sheet' to help your Christmas Day meal preparation run smoother than ever, including things that you can get ready the day before.

Don't forget our 'Wanna Wing It' tips to elevate your dishes! Our chefs have gone all out for Christmas with extra tips for snazzy presentation and personalised flavour. Intimidated by carving a ham or breaking down a chicken? Our chefs have got you covered.

What did Charlie Carrington cook for dinner the first time he cooked Christmas for his family? Who hides in the bakery at Christmas? (A mince spy). Enjoy our Atlas Christmas trivia and jokes around your family's table.

Delivery Information
For the first time ever we're offering FREE DELIVERY for all Christmas Box orders!  
You'll receive a text from our courier partner the night before your box is to be delivered with a link to track your order, with a real-time ETA. Your box will be delivered in a refrigerated truck on Saturday December 23. Unfortunately this year (because Christmas Day falls on a Monday) we are unable to deliver to NSW or ACT
Pick up Information
Pick up is only available from 194 Christmas St, Alphington, Vic 3078 on Saturday 23 December.

Please note, under no circumstances is pick up available from Atlas Dining.  

Please present your order confirmation email when collecting your order. 
Important Information (from the ATLAS Elves)
While we will always pack our boxes with everything you need to enjoy your meal, we recommend our unpacking your box immediately after delivery and checking off all of your ingredients (with the checklist provided). Please notify us on Sat Dec 23 if you are missing anything and our elves will endeavour to rectify any mishaps for you on Sun 24 Dec.
While these mishaps are incredibly uncommon, sometimes the journey from the North Pole can be a bumpy ride, and these precautions help to ensure that all of our Atlas Travellers have the merriest Christmas possible. 
FAQs
Please visit our FAQs to find out more. Please be advised that Atlas Weekly cannot take responsibility for stolen items left unattended on your premises.
A five-star Christmas! ⭐⭐⭐⭐⭐
See why our customers always love our Christmas Box:
Atlas brought Christmas Cheer
Mitchell M.
"The best Christmas feast ever so many flavours and considered dishes to choose from that the family throughout. Enjoyed a stress free Christmas made stress free by Atlas"
A wonderful Christmas Banquet
Kristina M.
We loved the variety of all the dishes and their flavours complemented each other well. We are not big meat eaters so the balance between the main meat dishes and the vegetables and salads was just right for us. I appreciated the advice about advance preparation which made final prep on Christmas Day stress-free. It was great that all the oven cooking could be done at the same temperature so I could put each dish into the oven at the right time to have everything ready together at the end. As usual with our Atlas boxes, there was too much for just the two of us and we enjoyed the leftovers on Boxing Day.
We love Christmas day and my mother and her sister always go overboard. After the year that was 2021 we were all a little worn out and Atlas Christmas Box came to the rescue. The food was sensational and inventive without being over the top. Our whole family got involved and felt like they had contributed to the day and it made for a more relaxed atmosphere. The produce was fresh and high quality. We loved that we didn't have to go to the supermarket AT ALL. Can't recommend highly enough!
Beautiful Christmas Box
Wei L.
Our box gave us 3 siblings something fun to do over Christmas, with lots of fresh produce and easy to follow recipes. We learned a few new recipes, and the time spent together in the kitchen was priceless.
Delicious and so easy to prepare! Fantastic!
Pippa T.
Loved it! All the dishes were delicious and easy to prepare. It's our third Christmas box and they are great every year. Our favs were the grilled prawns, heirloom tomato salad, chicken terrine, carrot adn cabbage salad and brownie! Loved the variety with the lamb, not just a mint accompaniment.
Best way to do Christmas!
Lisa G.
Love the variety of the Christmas box, and the pre planned dishes makes Christmas Day a lot less stressful! The ham was a winner yet again, so succulent and flavoursome. We also absolutely loved the prawn and pineapple salad, and the roast lamb with salsa verde.
This was amazing. We had a few people with intolerances, so got the box for the rest of us and then added similar extras for the others. Every course was delicious and plentiful. The prep was pretty straight forward and we had a feast. Everything worked well as leftovers too