About Us
Atlas Weekly introduces Australian home cooks to a whole new meal kit experience. Focusing first on sourcing the best dinner recipes from around the world before sourcing locally, finest produce any chef would be happy and proud to serve up at home. While we aren't in the game of price slashing to compete with other mediocre meal kit services, our meal kits are designed to satisfy the hip pocket - with each meal sitting as low as $9.95 per person.
We want dinner to be as easy, convenient and affordable as possible but believe that shouldn't come at the cost of quality!
Created by award winning chef Charlie Carrington of 1 hat restaurant Atlas Dining, Atlas Weekly currently serves homes metro Melbourne and regional Victoria. As well as Sydney and Canberra.
Learn more about our sister companies Atlas Dining & MEATRUN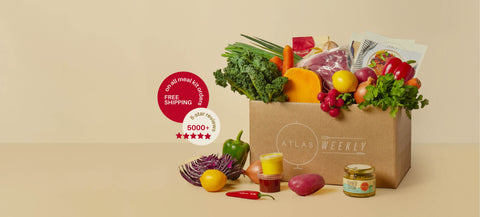 Tell us what you'd like to cook - choose the menu and box size that suit you. Option to shop a one-off meal kit if you're not ready to commit to our flexible subscription program.
We'll take care of the complex part of your cooking - sourcing fresh produce, preparing premium butchery in-house and hand making our ATLAS secret sauces, then deliver fresh to your door.
You'll receive everything you need preportioned as well as easy-to-follow recipe cards to have dinner on the table in less than half an hour!
Which menu is suitable for me?